Book Blogger Hop time! Last week was my first one and I loved it, so here I am again! As always, the hop is brought to us by Crazy for Books. This week's question is:
"Many of us primarily read one genre of books, with others sprinkled in. If authors stopped writing that genre, what genre would you start reading? Or would you give up reading completely if you couldn't read that genre anymore?"
Interesting question! I'm honestly not even sure what I primarily read anymore; I used to adore YA contemporary, but I think I'm growing out of it. Lately I have found myself loving both adult and YA dystopian, sci fi/fantasy, and historical fiction (although I have always loved that one). I've also read some really great nonfiction recently.
Anyway, my answer: I would never stop reading, but if my favorite genre(s) disappeared, I would probably read more mystery/suspense books. I've read a few and while I enjoy them, I never seem to seek out more. I also have tons of classics left that I want and need to read, so I suppose I'd throw those in there too with the mystery/suspense.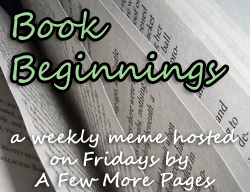 Book Beginnings is a great meme I just discovered, hosted on Fridays by A Few More Pages. You basically share the first line or two from the book you are currently reading and then discuss if you like them! Love it. I'll kinda sorta break the rules and write the lines from two books.
1. I just started Delirium
by Lauren Oliver last night
and am enjoying it so far. The first line is:
"It has been sixty-four years since the president and the Consortium identified love as a disease, and forty-three since the scientists perfected a cure."
I love it because it immediately grabbed my attention and I knew that I needed to keep reading. Love as a disease? Love is gone? There's a cure? What the what? I'm thinking Delirium will be one of those read in a day or two kind of books. Glad it's the weekend!
2. I reviewed Into the Wild
by Jon Krakauer here a few weeks ago, and I'm including the first line here because my junior English class started reading it on Thursday. I read the Author's Note aloud to the class and we stopped after the first two sentences to discuss them:
"In April 1992, a young man from a well-to-do East Coast family hitchhiked to Alaska and walked alone into the wilderness of Mt. McKinley. Four months later his decomposed body was found by a party of moose hunters."
My students loved how open and honest it was. They knew right then that the young man did not survive and they knew that the book would track his journey to his death. We talked about why Krakauer just lays it all out in two sentences and about how it made them want to keep reading. I love it because, well, they wanted to keep reading! Great, tragic story.