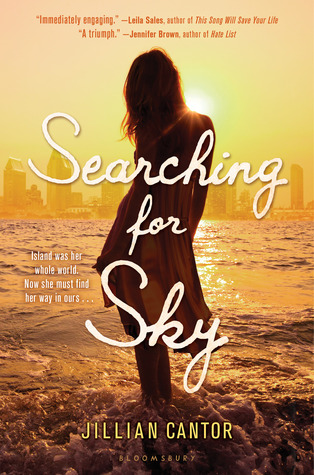 Publish date: May 2014
Source: Conference
Format: ARC
Length: 288 pages
"Sky and River have always lived on Island, the only world they've ever known. Until the day River spots a boat. Across Ocean, in a place called California, Sky is separated from River and forced to live with a grandmother she's just met. Here the rules for survival are different. People rely on strange things like cars and cell phones. They keep secrets from one another. And without River, nothing makes sense. Sky yearns for her old life where she was strong and capable, not lost and confused. She must find River so they can return to Island, but the truth behind how they ended up there in the first place will come as the biggest shock of all." (Goodreads)

I had never heard of Searching for Sky until I was given some books from a conference to put in my classroom library (which I am incredibly grateful for!). Of course, I brought a couple stacks home to read over the summer (plus the library, plus my kindle, plus I buy books...oops) and read Searching for Sky on my recent camping trip. I liked it!

Basically Sky and River have spent their whole lives on Island until they are taken away back to California. Sky lives with her grandmother and has to learn about our lives here in the US while trying to figure out what happened to her, why she was on the island, and why she was taken from it.

The plot is intriguing in itself--how can it not be? It was interesting to watch Sky learn how to do basic things here, like use a fork, and I was curious the whole time about her family's backstory. The book is a quick read and I was completely sucked in until about 75% through, when things started to get a bit too dramatic for me. Before that point, it was a 4 star read for sure.

I think my students will like this one a lot, especially those that like dystopian stories. Has anyone else read this? Thoughts?