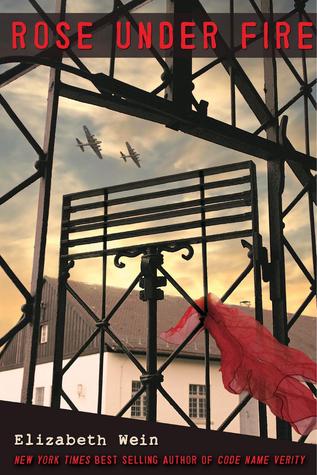 Narrator: Sasha Pick
Publish date: 2013
Source:
audiobooksync.com
Length: 11 hours 40 minutes
"While flying an Allied fighter plane from Paris to England, American ATA pilot and amateur poet, Rose Justice, is captured by the Nazis and sent to Ravensbrück, the notorious women's concentration camp. Trapped in horrific circumstances, Rose finds hope in the impossible through the loyalty, bravery and friendship of her fellow prisoners. But will that be enough to endure the fate that's in store for her?

Elizabeth Wein, author of the critically-acclaimed and best-selling Code Name Verity, delivers another stunning WWII thriller. The unforgettable story of Rose Justice is forged from heart-wrenching courage, resolve, and the slim, bright chance of survival.
" (Goodreads)
I need to get this out of the way right now: I did not love Code Name Verity. I don't know if I even liked it, honestly. Don't hate me, but it definitely was not the book for me that it was for so many others. Despite that, Rose Under Fire sounded really good to me. I picked it up at ALA in 2013, but when I tried to read it, I got about 100 pages in and gave up. It just wasn't working for me at all...
Fast forward to a few weeks ago when it was one of Audiobook Sync's free downloads. I gave it another shot, thinking maaaaybe the audiobook would make a difference over print and I was right! It was way better listening to than reading and completely changed the reading experience for me!
Rose Under Fire is split into a few different sections and I was a bit surprised at how much actually happens before Rose is sent to Ravensbrück, as described in the summary. I expected a bit of introduction, but there was quite a lot. Not a bad thing though! Characters do pop up from Code Name Verity since this is technically a companion book, so I would recommend reading (or at least trying to read) CNV first since obviously some things will be spoiled.
In terms of audiobook quality, I thought this was really good. The story was really brought to life by Sasha Pick's narration in a way that did NOT happen for me with the print. She had different voices for everyone and her narration really helped with the tone when Rose was at the camp and things were not going well. There was even singing in some parts, which really lent itself to the audiobook experience, and I enjoyed hearing Rose's poetry compared to reading it.
I would definitely recommend the audiobook over print in this case and am curious to see if anyone else had a similar experience? Thoughts?